It is a sign of the end times, Ghanaian gospel singer Joe Mettle has said of the coronavirus which is ravaging the world.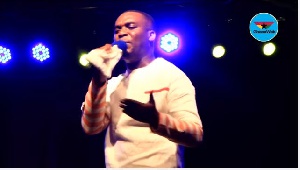 In Ghana, the virus has, so far, killed six out of the three hundred seventy-eight confirmed cases with four full recoveries.
According to the Johns Hopkins University of Medicine, 1,622,167 cases have been confirmed globally with 97,264 deaths and 365,250 full recoveries.
READ ALSO: Haruna lashes out at Kyei-Mensah-Bonsu for misleading Speaker but Majority Leader fires back
The countries with the highest number of cases are US 467,184, Spain 157,022, Italy 143,626, Germany 119,401, France 118,790, China 82,940 and Iran 68,192.
In terms of deaths, the numbers are as follow: Italy 18,279, Spain 15,843, France 12,210, UK 7,978, New York City 5,150, Iran 4,232, Hubei, China 3,216, Belgium 3,019, Germany 2,607, The Netherlands 2,511.
In an interview with Nana Romeo on Accra FM's mid-morning show Ayekoo Ayekoo on Easter Friday, Joe Mettle urged Ghanaians to draw closer to God as, in his view, the pandemic portends the end of time.
He said the world has been living in the end times for a while now and, therefore, urged believers to live a godly life and worship God privately since all social gatherings, including church services, have been banned by the government as part of the measures to curb the spread of the virus.
READ ALSO: All politicians are liars – Yvonne Nelson on why she can't align with any party
The gospel singer also advised Christians against hurling insults at men of God for not being able to do anything about the virus which is wreaking havoc globally.
In Ghana, President Nana Akufo-Addo has extended, by a week, the lockdown of Accra, Kumasi, Tema and Kasoa as part of measures to mitigate the spread of the disease.